BRICK
brick, magnets
2013
Frozen flying brick in the space is a monument of resistance. It refers to throwing bricks at the demonstrations, it symbolizes the growing trend of the protest in the time of crisis of democracy all over the world, but it does not offer any alternative. That is why the brick is just aimlessly hovering in the space.
FLAG
site specific installation, interactive kinetic object
2014
I installed a mechanism on a flagpole standing in front of the Synagogue, which was activated by movement of a visitor entering or leaving the building. Mechanism causes vibration of the flagpole as if there was a flag attached to it or as it was quivering with fear.link here
Flag from Jaroslav Kysa on Vimeo.
NEW POLES
plastic globes, magnets, metal wire
dimensions variable
2015
MARBLE
marble, magnets
2013
Piece of "reclining" marble from the former communist memorial in Leipzig - Germany is pushed off the wall creating an effect, that it is and same time is not stored. It is a parallel of the process meaning that we can not just so simply forget history and store our collective memory.
MEMORIAL TABLET I.
site specific installation, interactive kinetic object
60,5 x 54 x 3 cm
2014
The memorial tablet is a copy- cast of the original, placed on the buiding of Catholic house in Žilina, where from Dr. Jozef Tiso declared autonomy of Slovak country (a client state of Nazi Germany which existed between 14 March 1939 and 4 April 1945. link here. ). With the passing-by of a viewer, the tablet starts to spin, the text becomes unreadable and eventually the whole plaque becomes an abstract image . The tablet gradually stops after a viewer leaves the space.
Memorial-tablet from Jaroslav Kysa on Vimeo.
MEMORIAL TABLET II.
silicone
62 x 56 x 5 cm
2014
WORK
intervention in public space, Karl Marx grave - Highgate cemetery, London, United Kingdom
2013
Almost Fallen
engine, magnets, antenna, edging tape
2013
Circular object is moving on the platform in the way as if it was every second falling from it, but it always returns back to the original place.
almost fallen from Jaroslav Kysa on Vimeo.
Surface of Memory
site-specific installation, polished stones
2013
"Surface of memory" is an object-intervention placed in front of the former tenement house for families with children i the former factory complex Spinnerei in Leipzig-Germany. The work is a metaphor of the lost life in the empty area, which makes me feel as families and playing children were living there just a few days ago. I created some sort of splash by polishing the cobble stones, which from certain point of view creates an effect of a mirror or an ice field. The reflection of the field is for a me a metaphor of a mirror, our own reflection can bridge us with the past and also with the dark history of the factory Spinnerei.
Monument for Fallen Monuments
engine, iron dust from sculptures, perspex, fake wall, 20 cm
2012
Metal shavings moving in circle. With replacing- filing-off sculptures with every change of political regime, our collective memory changes too. None of the circles is identical, as the shavings rearrange themselves into different haphazard forms under the influence of the magnet. It is an equivalent of our collective memory constantly changing with time and place.
Red Rockery
site specific installation, former monument of Lenin, Banska Bystrica, Slovakia
2012
Metaphorical iron dust of the formerly erect statue of Lenin that disappeared seemingly rises in lifelike patterns from between the plates of russian red marble. It re-appropriates the monument base by re-entering to the visible world, saying: I wont let you forget!
Form Follows Function
extra gloss lacquer, mahogany exterior paint
intervention in public space, Banska Stiavnica, Slovakia
2011
Through a laborintensive process I transformed a simple wooden construction
supporting a withering historical house into something precious looking, highlighting the significance of its function.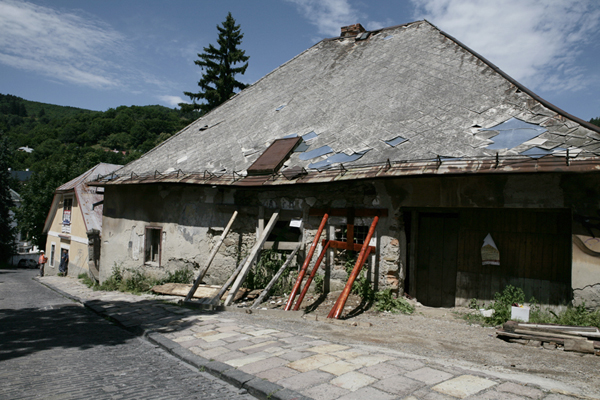 25.9.1944
gold leafs, old railway track
intervention in public space, Banska Stiavnica, Slovakia
2011
I found this piece of train track, accidentally implanted in the soil, in the area of the former train station of Banska Stiavnica. A massacre took place on this ground in 1944. Around 80 Carpathian German civilians were killed by members of the Slovak national resistance. By gilding the surface of this train track I created a monument for this tragic event, which is rarely mentioned and barely talked about.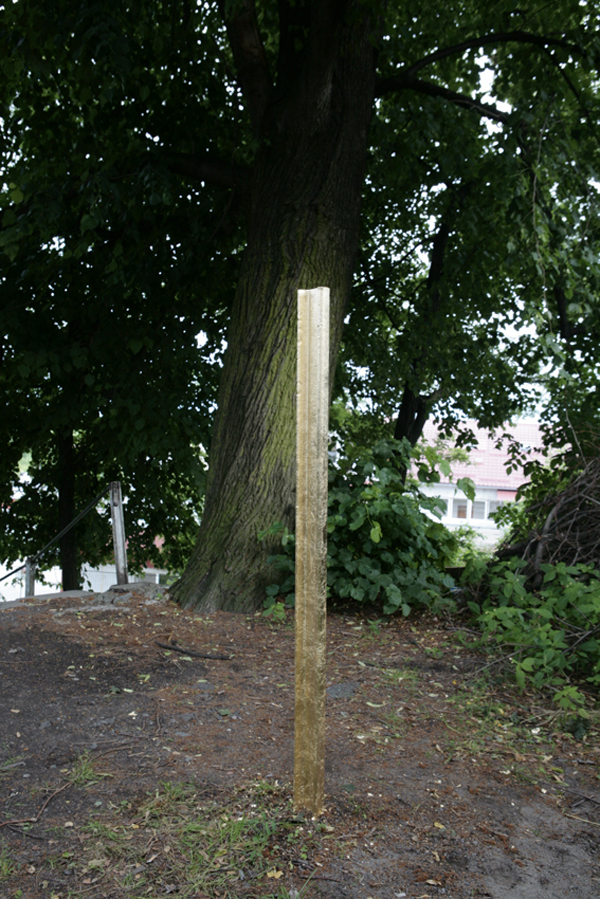 Alchemy Inside of You
bread, amethyst
2011
The Increased Difficulty of Concentration
mixed media
2011
The Spirit of Ecstasy
intervention in public space, London, United Kingdom
2011, 01:03 min
the spirit of ecstasy from Jaroslav Kysa on Vimeo.
The Barrier
intervention in public space, London, United Kingdom
2011, 02:02 min
Black Remorse
site-specific installation, Celje, Slovenia
black shiny color, theatre spot light, tripod, sensor
2010
Theatre spot light is connected to the kinetic sensor but operates in the oposite way. When the visitor gets closer, the light will automaticaly turn off and will turn on again when he leaves. The viewer then cannot get close enough to the splash to see it well exposed and so metaphoricaly enlighted. It always stays lit only from the distance. After the viewer's arrival it becomes only a random splash of a color on the street. For this instalation in the public space in Celje - Slovenia , I found a place of a tragic past.
Too Far East is West
site-specific installation, London, United Kingdom
light, cable, engine, aeorosol can
2010
Too far east is west, engages with a notion of place and identity. Geographical notation have an ambivalent connotation, they indicate specific points in space and yet they are completely dependent on the subject's perspective . How do we define our place in the world? As in the constant flux of passers-by in front of the window, a light in a continuous motion, draws the same trajectory over and over again. It suggests a sense of inexorable repetition, implacable passage of time.  
At the same time spectator's perspective is constantly changing, in infinite diversions, yet in an ultimately predictable path.
Deformer
photography of an action in public space, Celje, Slovenia
30 x 40 cm, c-print